Football season is here, and many football fans (and game tagalongs) would agree that a big part of the allure of the NFL experience lies in the concessions and fan merchandise.
However, long concession stand lines have been a common complaint among fans for years. NFL stadiums recognize that this is an issue and have taken innovative steps to make concession stand lines move more quickly, enhancing the overall game day experience for fans.
1. Mobile Ordering at NFL Stadiums
One of the most significant advancements in the realm of stadium concessions is the widespread adoption of mobile ordering apps. These apps have revolutionized the way fans can purchase food and drinks during games. With just a few taps on their smartphones, fans can browse menus, place orders, and pay digitally.
These apps have several key benefits:
A. Faster Service: Mobile orders are prioritized, which means fans receive their food and drinks quicker than those waiting in traditional lines.
B. Reduced Congestion: The influx of mobile orders has led to shorter lines at the physical concession stands, reducing congestion in the stadium.
C. Convenient Pickup Locations: Many stadiums have designated pickup locations for mobile orders, making it easy for fans to grab their items without wandering through the stadium.
D. Customization: Fans can customize their orders precisely to their liking, ensuring they get the food and drinks they want.
E. Cashless Transactions: Mobile ordering apps promote cashless transactions, reducing the need for fans to carry physical money.
Stadiums such as MetLife Stadium (home to the New York Giants and New York Jets) and AT&T Stadium (home to the Dallas Cowboys) have successfully implemented mobile ordering apps, improving the overall game day experience.
2. NFL's Self-Service Kiosks
Self-service kiosks are another game-changing technology in the world of stadium concessions. These kiosks allow fans to place their orders and pay without the need for human interaction. They can be found in various locations throughout the stadium, providing convenience and speed.
The advantages of self-service kiosks include:
A. Quick Ordering: Fans can browse the menu, select items, and pay within minutes.
B. Reduced Staffing Needs: Stadiums can optimize their workforce by having fewer staff at traditional concession stands and more at the kiosks, reducing labor costs.
C. Accurate Orders: With no miscommunication between fans and staff, orders are more accurate, leading to fewer mistakes.
D. Accessibility: Self-service kiosks are often designed to be user-friendly and accessible to fans of all ages.
Self-service kiosks have been embraced by numerous NFL stadiums, including Levi's Stadium (home to the San Francisco 49ers) and U.S. Bank Stadium (home to the Minnesota Vikings), helping fans get their favorite snacks and drinks faster.
3. Cashless Payment Systems at Carts and Kiosks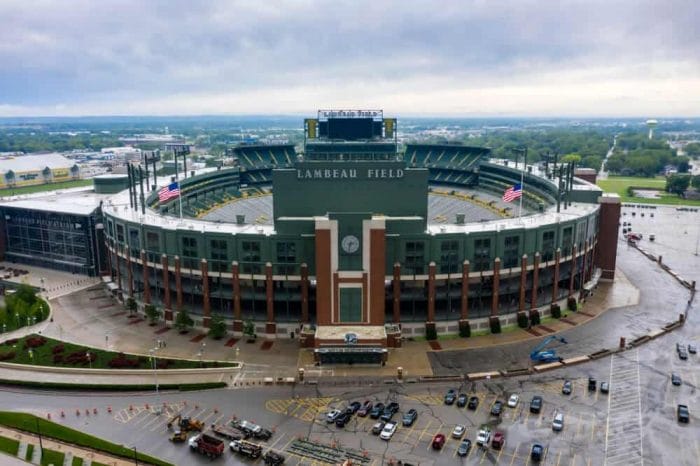 Cashless payment systems are now the norm at almost all NFL stadiums. These systems encourage fans to use debit or credit cards, mobile wallets, or preloaded stadium cards for transactions, eliminating the need for cash.
Key benefits of cashless payment systems include:
A. Speedy Transactions: Cash transactions are often slower than electronic payments, especially when making change is involved.
B. Reduced Lines: With cashless systems, fans can make transactions more quickly, leading to shorter lines at concession stands.
C. Security: Cashless payments are more secure, reducing the risk of theft or loss for fans.
D. Analytics: Stadiums can gather valuable data on fan spending habits, helping them improve their concessions offerings over time.
TIAA Bank Field (home to the Jacksonville Jaguars) and Lambeau Field (home to the Green Bay Packers) are examples of NFL stadiums that have fully embraced cashless payment systems.
4. Expanded Menu Options at NFL Stadiums
Another strategy employed by NFL stadiums to improve concession stand efficiency is the expansion of menu options. By diversifying their offerings, stadiums can cater to a wider range of tastes, reducing congestion at popular stands.
Key aspects of this strategy include:
A. Local Cuisine: Incorporating local and regional food options can help spread out the crowd as fans explore different flavors.
B. Healthier Choices: Including healthier food options can attract fans looking for alternatives to traditional stadium fare, alleviating pressure on popular stands.
C. Allergy-Friendly Options: Offering allergy-friendly and dietary-specific menu items ensures that fans with dietary restrictions have ample choices.
D. Variety: A diverse menu keeps fans exploring the stadium, rather than all flocking to a single concession stand.
Stadiums like Arrowhead Stadium (home to the Kansas City Chiefs) and Lincoln Financial Field (home to the Philadelphia Eagles) have successfully implemented this strategy, resulting in smoother concessions operations.
5. Pre-Packaged Stadium Food
Pre-packaged food options have gained popularity in NFL stadiums as a way to expedite the ordering process. These items are ready to go, eliminating the need for fans to wait for food to be prepared.
Advantages of pre-packaged options include:
A. Speed: Fans can grab pre-packaged items and go, reducing wait times.
B. Consistency: Pre-packaged items are consistent in quality, ensuring that fans receive a reliable product.
C. Reduced Waste: Pre-packaged options can help reduce food waste by minimizing overproduction.
D. Convenience: Fans can easily carry pre-packaged items to their seats or enjoy them on the go.
Pre-packaged options can be found at stadiums such as Gillette Stadium (home to the New England Patriots) and Soldier Field (home to the Chicago Bears).
NFL stadiums have recognized the importance of keeping fans happy and engaged during game days, and improving concession stand efficiency is a crucial part of that mission.
The introduction of mobile ordering apps, self-service kiosks, cashless payment systems, expanded menu options, and pre-packaged foods all help ensure that concession stand lines move more quickly.  As a result, fans can spend less time waiting in line and more time enjoying the game.
Gallery Carts is proud to be part of the ongoing advancements in kiosk and cart technology, with a commitment to partnering with NFL stadiums to enhance the fan experience.
Whether you're cheering for your favorite team or simply savoring the snacks, NFL stadiums are making sure that every game day is a winning experience for fans.