The COVID-19 pandemic, resultant supply-chain issues, and labor shortages significantly influenced food trends worldwide. Even at stadiums, hospitals, conventions, and travel centers, customers are looking for food options that are trendy, distinctive, and delicious. Our custom food kiosks are designed and engineered to serve whatever unique menu items you can dream up. Here we've rounded up some of 2022's hottest food trends to show you how they make some of the best foods for a food kiosk menu.
Global Cuisines and Fusion Menus For Food Kiosks
Limited travel during the pandemic did not limit customers' desire for global cuisines. International chefs took to social media to share their recipes and techniques. As consumers learned from global chefs online, their palettes became more sophisticated. Food trend followers anticipate greater demand for food that represents the cuisines of a specific region, not just "Chinese" or "Thai." An ideal menu for a food kiosk would incorporate region-specific cuisines or street foods that can be easily prepared or stored in a kiosk.
Food Kiosks For Everyone: Plant-Based Menus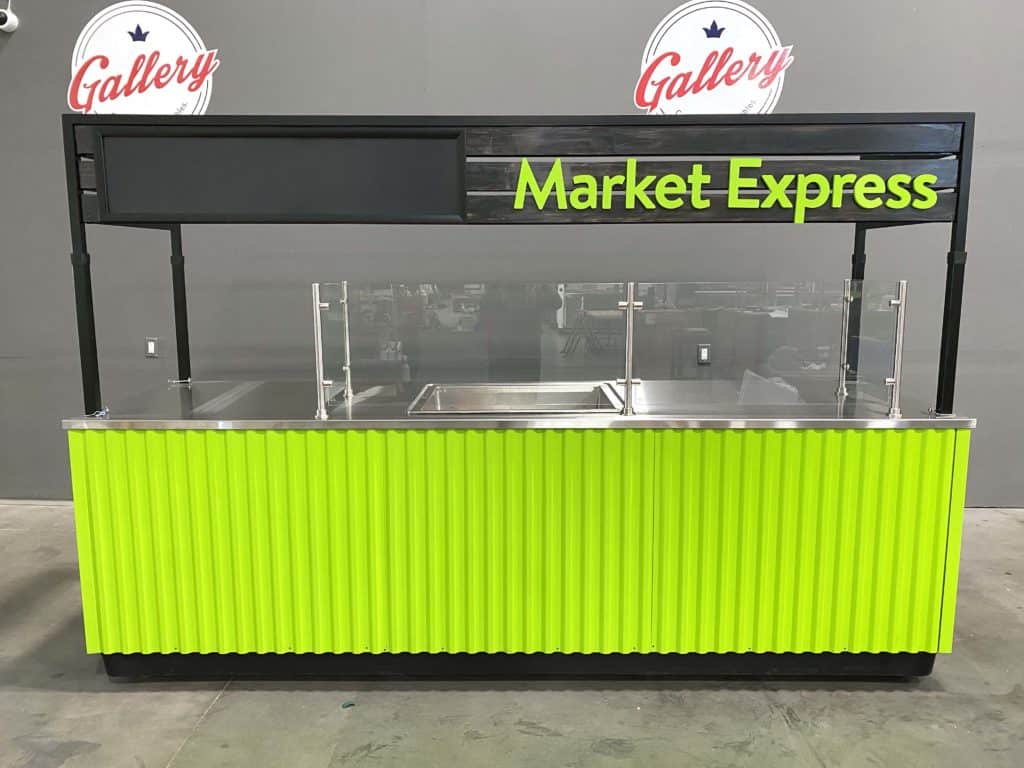 One of the fastest-growing segments of the food and beverage industry is the demand for more plant-based food. "According to the Good Food Institute, the sale of plant-based foods grew three times faster than overall food sales in 2021." The shift to more plant-based eating is believed to be attributed to growing interest in the health benefits of eating more fruits and vegetables and the impact on the planet of eating meat and animal products. Additionally, technological advances in food science have given rise to alternative meat brands such as Beyond Meat and Impossible Burger. Meat-free options are showing up at all of the major fast-food chains, so savvy consumers will expect meat-free and plant-based options to show up at food kiosks and grab-and-go eateries as well.
Coffee Kiosks Using Coffee Alternatives
The coffee and alternative coffee industry have seen many new products come forth in response to limited coffee production during the pandemic. Additionally, consumers have grown concerned about some of the side effects of coffee and its sustainability as a crop. Although many still enjoy the morning ritual, others have found that these coffee alternatives provide them with the same "fuel" they need without the additional effects. Brands such as MudWtr, Teecino, Four Sigmatic, and nujo, among others, provide alternatives to the robust morning beverage. "Coffee alternatives are anticipated to grow exponentially – especially as education around the negative effects of caffeine continues to gain wider attention."  Adding coffee alternatives to a coffee kiosk would be a great menu addition that responds to the growing consumer demand.
Using a Food Kiosk to Highlight Indigenous and Native Chefs and Menus
A much overdue spotlight has been placed on Indigenous and Native chefs who are working to make sure "Native and Indigenous foodways are preserved and revered appropriately." (Foodnetwork.com) New restaurants and marketplaces highlight indigenous recipes that steer clear of "colonized ingredients" such as wheat and dairy and use seasonal and Indigenous-sourced ingredients. Collaborations with Indigenous and Native Chefs for original food kiosk menus that celebrate the fantastic breadth of Indigenous foods would be a highlight to any stadium, hospital, or convention center.
With so many exciting food trends on the horizon, the opportunities are endless for bringing exciting and new flavorful food kiosks to your venue. To learn more about building and designing food kiosks and mobile food carts, contact us today using the form below.
Sources:
www.beveragedaily.com/article/2002/03/27
www.icollectiveinc.org
www.foodnetwork.com/fn-dish/news/food-network-trend-predictions-2022
foodrevolution.org/blog/vegan-statistics-global/
www.themanual.com/food-and-drink/biggest-food-trends
www.kalsec.com/food-trends-2022
www.usfoods.com/great-food/food-trends/top-food-and-restaurant-trends-in-2022
www.touchbistro.com/blog/10-hottest-food-trends-this-season