Over our 40-year history, we've been fortunate to work with many exciting and interesting food vendors. From our humble beginnings as a hot dog cart stand, we've always recognized the importance of having tasty beverages to go with a delicious meal. But it's not always necessary to have food and beverages served together.
Instead, many of our arena, travel center, and concession clients use standalone beverage carts and kiosks to serve drinks right where their customers want them. From branded and custom-designed carts to modular kiosks that match the look and feel of your building, our team can walk you through the design and manufacturing process of our one-of-a-kind Gallery beverage carts.
Today we're sharing some of our favorite beverage cart ideas – from traditional to trendy, let us know what types of kiosks will quench your thirst!
Beverage Cart Idea #1: Hot Beverages
Over the years, we've created many innovative beverage carts and kiosks that serve hot beverages. You can find our carts serving coffee, cocoa, tea and other hot beverages in office buildings, hospitals, and travel centers like the one below located in a high-traffice area of a building serving office  work workers.
This outdoor coffee kiosk at the FedEx Field in Washington, DC allows baristas to pull great shots of coffee in any weather!
Beverage Cart Idea #2: Beer/Tap Kiosks
This extra-long kiosk kiosk at Red Rocks Amphiteheatre in Morrison, Colorado allows bartenders to serve a large number of guests quickly and efficiently. With many taps and room for numerous point-of-sale stations, your guests will be amazed by how fast they are back at their seats!
Beverage Cart Idea #3: Cocktails
Not everyone is a beer fan; for the cocktail crew, we have something for you too! Bartenders will love our sleek cocktail bars that make creating cocktails a breeze. Whether you serve unique beverages, uncork wines, or pour cocktails on tap, these bartending carts can be customized for whatever beverage service your venue requires.
It's 5 o'clock somewhere so why not grab a drink at the Bacardi Mojito Bar Cocktail Cart located at Brightline Train Station in Miami, Florida. This simple and standout beverage cart is in a great location serving customer fun beverages day and night!
Beverage Cart Idea #4: Grab-n-Go
Not every venue requires custom-made or poured beverages, and in these situations, it's great to have grab-n-go options available. Our Grab-n-Go kiosks can easily be customized for beer, soda, and other beverages. These staples at airports, travel centers, college campuses and hospitals let customers grab what they want quickly and efficiently.
Beverage Cart Idea #5: Shipping Containers
Repurposed shipping containers are one of the most fun design trends we've recently seen in food and beverage carts and kiosks. These large-capacity units can be built and designed to serve a plethora of beverage types. Whether it's wine, beer, coffee, or kombucha, the large footprint of these units makes them a great addition to arenas, stadiums, and other large venues.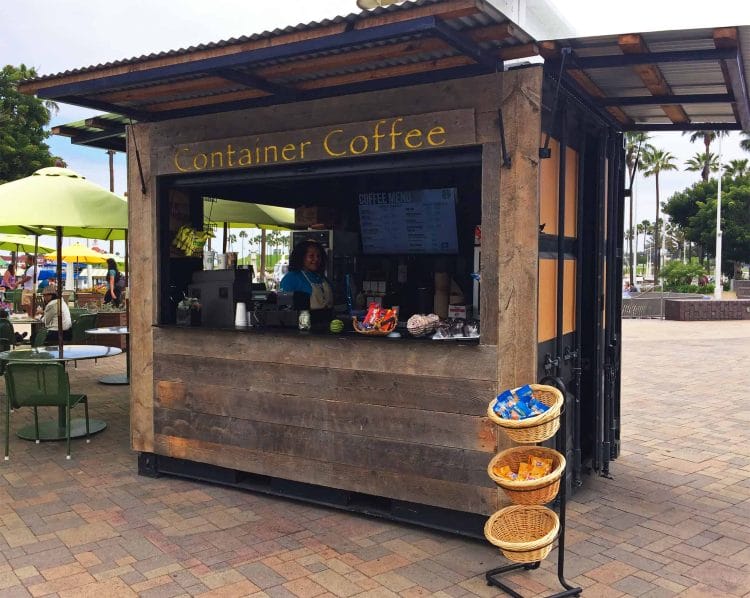 If you don't see a style of beverage cart here that you love, we have loads more carts and kiosks perfect for food and beverage service for you to check out. Our design and manufacturing team is also skilled in creating unique solutions for your beverage needs, so we're sure we can build a beverage cart that you will love. Visit our Beverage Solutions page or contact us on the form below to learn more about how Gallery Carts can take your beverage cart idea from concept to creation!