GNG. Grab & Go. Grab-n-Go. Grab-and-Go.
These terms all refer to the self-service marketplace where customers can shop and pay for ready-to-eat items. When COVID-19 shuttered restaurants or limited capacity at dining establishments, many places offered Grab and Go options that allowed customers to get prepared and pre-packaged food. Today, Grab and Go food remains a mainstream foodservice option available in stadiums, hospitals, travel centers, and university campuses.
As the hospitality industry reopened, but labor shortages increased, savvy hoteliers implemented Grab and Go systems for everything from bottled water to Tylenol to reduce front desk traffic and free up the bandwidth of the reduced staff. A recent article from Travel Daily News shared that hotels' Grab and Go retail revenue increased by 40% from 2020 to 2021. Similarly, many contract foodservice providers also expanded the use of Grab and Go kiosks in stadiums and arenas during this time.
But when it comes to ready-to-eat meals, some customers may wonder, is Grab and Go food actually safe? There are several components to ensuring the safety of Grab and Go foods:
Food Preparation For Grab and Go Kiosks
Anyone who works in food service knows that food safety is paramount. Keeping hot foods hot and cold foods cold is crucial to offering safe food options. Grab and Go foods are safe provided they have been prepared within food safety standards. Restaurant.org, the CDC, and the FDA provide a plethora of food safety guidelines that outline the proper preparation and storage of food. When designing and building Grab and Go kiosks, it's important to work with an experienced company that has the knowledge to support what is needed to meet the health department's requirements. UL, ETL, and NSF-approved equipment will help retailers ensure optimal compliance and food safety.
Packaging and Labeling For Optimal Food Safety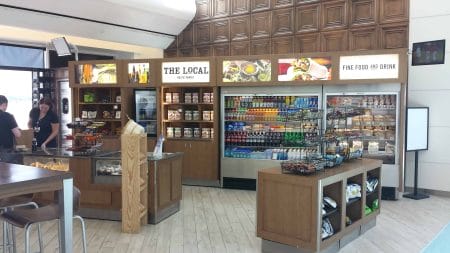 Unlike traditional dining, where food is prepared "on-demand" and served fresh, Grab and Go requires attractively packaged and labeled food. Consumers prefer packaging with clear visibility and recyclable or biodegradable containers. They are also looking for "better-for-you" options in addition to "better-for-planet" choices. For example, ready-to-eat salads are experiencing 50% weekly increases compared to previous years! Food preparers should prioritize premium and fresh ingredients. Packaging for Grab and Go items should list ingredients and the dates the food was prepared and when it will expire.
Refrigerating & Heating Grab and Go Foods
When storing Grab and Go foods, chillers and warmers should be working optimally to keep food at safe temperatures. Of course, no one wants a warm beer or a cold hot dog!
When designing your Gallery Cart solution, part of our process is the inspection and proper installation of your Grab and Go kiosk. Each Gallery Cart is created for each client's unique needs with their specific food and packaging in mind. Our Grab and Go Kiosks include beverage coolers, food warmers, snack stands, and more.
Sources: Tigerchef.com, Food-management.com, TravelDailyNews.com
Learn more about Gallery's Grab-N-Go solutions. Click below to receive the Grab-N-Go brochure or visit the Grab-N-Go Product page.
Grab-N-Go Brochure Download