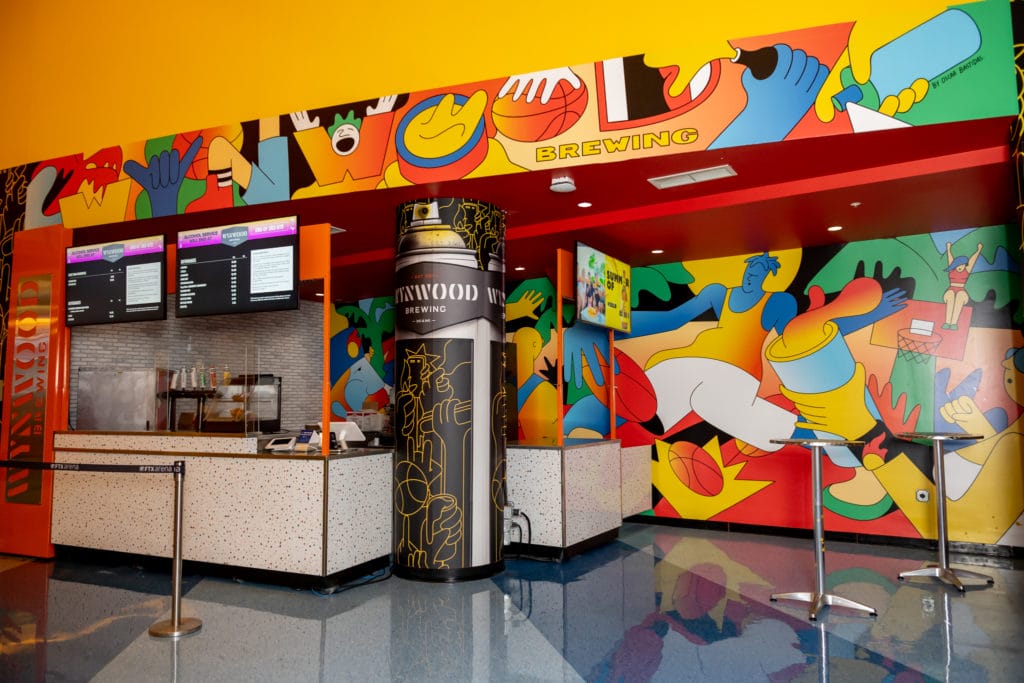 The act of supporting local provides a huge benefit to the community, not only to the local business but also to large corporations and stadium owners. As well as enhancing the guest experience by providing food and beverages that are unique to the area, arenas and entertainment venues can benefit from the brand affinity and customer loyalty that transpire from supporting local businesses.
We talked with David Rodriguez, the Missionary of Beer at Wynwood Brewing Company, to get his perspective on supporting local and the benefit of building a custom draft beer bar cart in the FTX Arena in Miami, Florida. With the main taproom located in the Wynwood Art District in Miami, the brewing company was the first craft production brewery in Miami, and the official craft beer of Miami's professional basketball team, the Miami Heat. Wynwood Brewery sells beer at a couple of locations throughout FTX Arena, as well as the Miami airport, parts of Southeast Florida, as well as Puerto Rico out in the mass market.
Read David's responses to our questions below about the benefits of supporting local and the experience of building a portable bar cart in the FTX Arena.
Working with FTX Arena and how supporting local breweries and eateries provides an enhanced guest experience.
David: If there's one thing that the FTX Arena and the Miami Heat do a good job of, it is really reaching out and highlighting those breweries, distilleries, and restaurants that help build the community. So, it's incredible to see our tags and mentions on Instagram from people that are blown away by the artwork, by seeing the terrazzo finish on the bar, our logo, the colors. It's a cool feeling. It's not branded the same as everything in the arena, but because it's unique and colorful and it's art, it just makes sense as the overall picture.
The FTX arena has a lot of local food vendors, whether it's Bodega or Sergio's or Ms. Cheezious. It's important because I feel that as a consumer, at least for me, whenever I travel to other cities or states, I'm looking for what the locals do. Where do they go? What do they eat? What do they drink? I want to be immersed in that culture. We want the same here <at Wynwood>. So that if you're visiting from out of town to watch the Miami Heat play, you can enjoy a Wynwood beer with some great local fare and kind of tie the whole Miami story together.
What was the decision behind putting a portable bar cart in the FTX arena and how has it helped business?
David: Business is great. People are thirsty at basketball games and concerts. So, it's definitely been a significant increase in volume. And again, it goes back to having that eye-catching bar being up in the 300 level. It provides more visibility because prior to that bar, we had, I believe it was five different kiosks that were branded La Rubia, nice and bright yellow. And those were throughout the concourse on the 100 level and 300 level. But it wasn't a statement like the Section 307 bar. People when they would first walk up to it were like, "Wow!." You got the food, the beer, the artwork, we have a TV that's playing, awesome shots of La Rubia being poured. It's showing friends hanging out drinking beer. So it really helps set the tone for the rest of the night.
One of the benefits of our brewery is that we have a taproom. But we're in one space, a brick and mortar. Miami, and South Florida for that matter, is incredibly vast and spread out. For people that live 50 plus miles away, it's going to be hard for them to come by and visit. But you're getting a lot of tourists and people that will travel to see the Miami Heat or a concert. So it was really important for us to have a bar at the arena. And it was brought to our attention by the Miami Heat once we'd signed on as the official local beer of the Heat. It's really a way of us actualizing that value of the name of the Heat, the location of the arena, and the ability to have an outpost just across the bridge, so to speak. Having a presence helps us reach people that may not want to come out to Wynwood. It's our way of going to you instead of you coming to us.
A little bit more about being the official craft beer for the Miami Heat.
David: Being the official beer of the Miami Heat is incredibly massive for us. The Heat is an incredible franchise built on championship DNA and winning culture. You could argue they're one of the more successful sporting franchises down in South Florida. I would say Miami is a basketball town and it made sense for us because we're basketball fans. To sign that deal and to be a partner of the Heat, to use their marks to co-brand some of our six-pack carriers, and to do events offsite. It's a winning recipe when you have two great businesses coming together.
How was it determined which Wynwood beers are served in the bar cart at the stadium and how many are on draft?
David: La Rubia Blonde Ale, Laces IPA and La Nueva Premium Amber Lager are the three beers that we have on draft at the arena. And in the past, we've experimented with seasonal beers, and limited release beers, and we found that the approach is best simplified. Having three beers year-round people can know and love makes it simple. There are many games in the regular NBA season, so having seasonals and limited release beers causes a little bit of confusion. We're in the 'keep it simple, stupid' method.
It's interesting because when we choose beers, obviously it's based on the consumer, it's based on the occasion, it's based on if it's going to be indoors or outdoors. So, for the stadium, we had to go with our number one beer, La Rubia blonde ale. Arguably the most popular local craft beer in South Florida. It's a crisp, refreshing, very easy drinking blonde ale. It's a good get your feet wet type of beer that is available at the stadium, not only as a draft, but also 16-ounce cans. Because you're not going to want to have a 12-ounce can and then be done with it and have to get back in line… You want to watch the Miami Heat or whatever concert, so it's important to have either the 16-ounce pour or the 20-ounce pour, as well as the 16-ounce can.
Our number two priority is Laces IPA. It's not aggressively bitter. It's not high in alcohol. It's a beer that has great flavor, a great aroma, but with a mild bitterness, tropical flavors, and aromas that the hops provide. And last but not least, La Nueva, our premium amber lager. It is a beer that is darker than La Rubia slightly, seeing that it's amber, but it's not as hoppy as Laces IPA.
A little bit of background around the inspiration for the mural artwork behind the Wynwood Brewing bar carts at FTX Arena.
David: For the inspiration of the mural artwork for our bar at the FTX arena, we wanted to take a piece of Wynwood, not just Wynwood Brewing, but Wynwood the neighborhood. For those who don't know, it's a very vibrant neighborhood with street art, graffiti, colorful walls, sidewalks, and asphalt. In every way, you're seeing incredible artwork in different manifestations. We wanted to take a piece of that and drop it in the arena. And similar to our brand, similar to our cans and bottles, people really love the eye-catching artwork. So we took artwork from Laces IPA, and we had that set as the back wall vinyl wrap at the bar. We worked with Gallery Carts to put in the actual bar and the machinery, but that back wall vinyl wrap was based on the artwork on the Laces IPA can.
Why was Laces IPA artwork chosen for the mural?
David: Taking a bit of a deep dive into the brand, Laces IPA has imagery of shoes being tied together by the laces and hung up on power lines. And what's interesting about that is that it's a very ambiguous symbol or sign. We've done some research and we've found that maybe it's somebody that 'made it' and was able to advance themselves outside of a difficult neighborhood or area, or maybe a difficult upbringing. Or it's to remember somebody that has passed. There are a lot of different possibilities for what it means, so we leave it up to interpretation.
It's kind of like, "Hey, mark your territory, hang your laces, whatever that means to you. This beer's for that." And so, tying that all in, that's your opportunity of having that urban imagery with shoes and basketball. And obviously there's a lot of detail and nuance that goes into those basketball shoes. We felt that out of our entire brand lineup, that's the artwork that is going to resonate the most with the venue, with the Miami Heat, and with the consumers.
Working with the local artists from the Wynwood Art District and the power of visual association.
David: The artist we worked with is named Oscar Bastidas. He's originally from Venezuela and spent some time in Miami. As he was local at the time, he currently resides in New York. At times it's interesting, keeping local artists local, but as long as the sentiment is there, that's what matters to us. We love the artwork that Oscar provided to us. Really the challenge was taking the Laces IPA imagery and applying it to a 25-30 foot wall. No easy task. He also went ahead and instead of putting our logo up in the top, because our logo is present in many different areas, he adapted the lettering into his artwork. He spelled out Wynwood Brewing through a hand making a W, a Y being something else like shoes, hands, balls, trees, things like that. So it was really cool to have that almost kind of playful, vibrant, colorful cartoon approach so that people could understand, "Hey, I've seen that before, where is it? Okay. I've seen it on this can or in this bottle, and now it's there on that wall. I'm making the association this is Wynwood brewing. This is something I want to consume."
A bit about the experience working with Gallery and the design behind the bar carts.
David: It was great working with Gallery. I feel that we're the creatives and that we have crazy ideas that may or may not make sense. And we appreciate the folks at Gallery and keeping us honest by saying, "Hey, if you want to do this, you think you need that, you really need this." So helping us materialize our thoughts, our dreams, and our goals into a physical unit, it was really an awesome moment.
When you look at the units that Gallery built for us, we've got the terrazzo finish on the bar, we've got the orange accents and the highlights, the metal Wynwood Brewing sign, and the food components. We worked with a local chef to curate a menu that has items we would want to have at a house party. We're basing our design on our soon-to-be taproom restaurant to have that brand consistency. Whether it's at Wynwood, at the arena, or at the airport, and then the other future projects we do. The communication was great, especially considering the challenges that we were all facing with supply chain disruptions as a result of COVID-19. I think we were all pretty understanding about the various circumstances that we had to deal with, and at the end of the day, we were able to make it happen.
One last question. What is your favorite beer and why?
David: Ooh, man. Picking a favorite beer is a very difficult task. So, I will tell you that my answer today is dependent on my mood, what I had for lunch, what I'm doing later tonight, and what I can and can't have. All that said, my absolute favorite beer that we produce at Wynwood Brewing company is called Wyntoberfest, our Octoberfest lager. It is only available from July through October. And it's something that I feel because it's seasonal it makes you want it more. It's your traditional lager, slightly darker, nice malt complexity, hints of sweetness. And it's meant to be enjoyed in a liter stein with a bratwurst in the other hand. That's my favorite. It just speaks to me.