Building Flexibility, Efficiency, and Innovation into the New World View of Food Service & Facilities
Modular solutions have been on the rise for years, thanks to consumer trends toward real-time grab-n-go, Millennial and Gen Z convenience preferences, and a drive for labor and cost savings for arenas and other commercial businesses. But nothing accelerates change like historic events, and the COVID-19 pandemic is a prime example. It has quickly changed the way we think about the spaces we use and redefining food distribution and consumption in both the short and long run.
In the here-and-now while the pandemic still poses an imminent threat to health and safety, facilities and food service providers have had to get very creative about how and where they serve customers.
With the requirements for social distancing, options like mobile and modular solutions enable providers to serve their customers in less confined spaces that are more conveniently (or more flexibly) located.
But even as we emerge from the throes of the pandemic, modular solutions will be among the many changes that we expect to remain for the long term. That's because they help businesses remain more agile in their responses to any challenge that may arise. It's also because customers are adapting along with – or even ahead of – the marketplace.
Why go back to more rigid commercial real estate models when flexibility and efficiency constitute progress on both sides of the transaction?
How We Provide Modular Solutions: KTG Partnership
We have had several long-standing partners over our 40+ year history. One such partnership is with Kitchens To Go (KTG). KTG, the leader in flexible foodservice facility solutions, specializes in state-of-the-art equipment, functionality, and design. When a project calls for modular solutions, KTG is our go-to partner.
Understanding the What and Why of Modular Buildings
The modular solutions we're referring to are buildings for the food and beverage space within the context of larger venues like arenas, universities, hospitals, and even office buildings.
Instead of building or remodeling a structure from the foundation, modular components are built off-site and snapped together at the destination. There are several benefits of incorporating modular buildings, including:
Use of Existing Space & Customer Confidence
Instead of a new construction or major renovation project, modular buildings allow you to "pop up" new structures to better and more safely leverage the spaces where consumer needs and/or revenue-generating opportunities exist.
Production Efficiency & Budget Savings
Modular solutions are built off-site in a centralized warehouse. With no weather delays, reduced waste, and less disruption at the destination, the production process is highly efficient and saves on labor costs. Their smaller footprint means they can also help reduce operational labor costs.
Accelerated Development & Revenue Potential
The modular production process can also shave as much as 40% off the build schedule, allowing you to start generating revenue weeks sooner than building from the foundation onsite.
Food Safety & Environmental Innovation
Modular solutions create opportunities to incorporate innovation more easily. For example, improvements in storing and serving hot foods, or adding ventless/ductless technology for "greener" operation can add great value.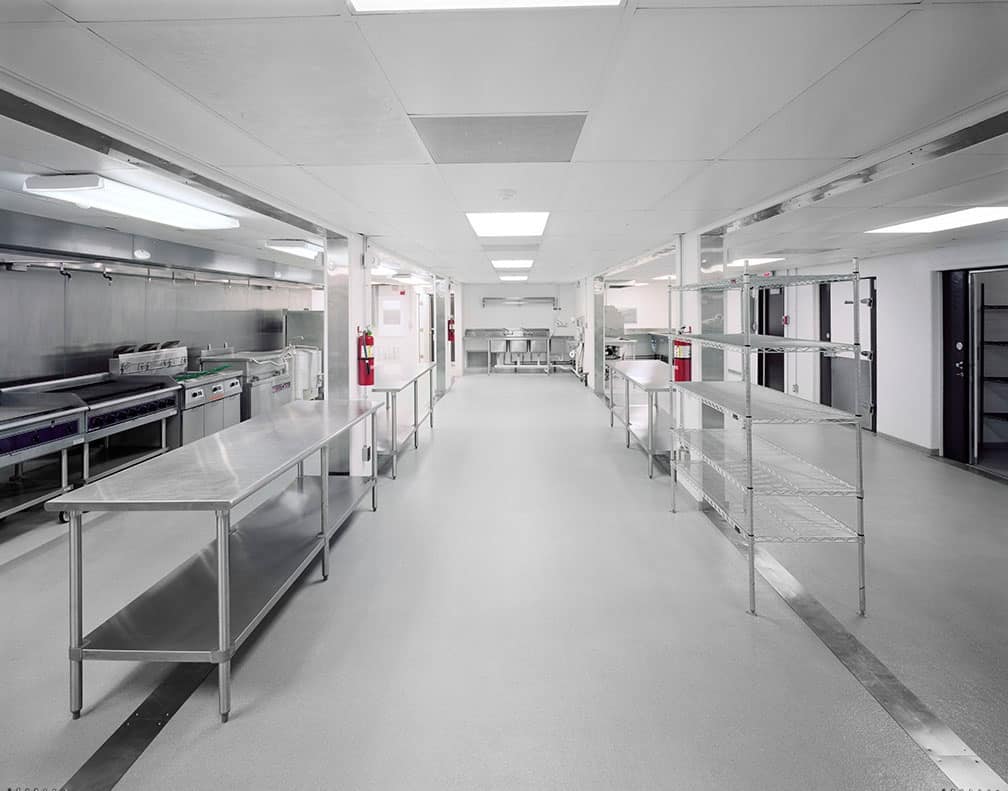 Use Your Imagination: Modular Application Examples
There are many places and situations where modular solutions could be a valuable option. We most often play in the field of arenas, and that's where our prime example comes from. In our October blog post, we shared an overview of our project to provide complete food and beverage solutions for the recently-renovated Dodger Stadium, featuring KTG modular buildings.
But there are many other examples. To guard against the spread of the Coronavirus, hospitals are disallowing visitors inside, and opting for outside waiting and foodservice areas.
Restaurants are finding creative ways to expand or disperse their footprints. Universities and airports need ways to keep people spread out and still provide the services that keep students and travelers fed, happy, and coming back.