One of our favorite parts of Game Day is heading to the Team Store. And it's not just because we build indoor and outdoor retail kiosks for these stadiums! Often a Team Store at the stadium has unique merchandise that cannot be found anywhere else. Here are a few of our favorite retail kiosks or team stores at stadiums across the country. These retail stores are worth leaving your tailgate early to browse!
Dallas Cowboys Merchandise Retail Kiosks
Everything is bigger in Texas, and the retail kiosks at AT&T Stadium, home of the Dallas Cowboys, are no different. These indoor and outdoor retail kiosks carry an impressive array of team merchandise, from hats and puzzles to a dizzying collection of t-shirts. One of the unique items sold at these retail kiosks is the Dallas Cowboys x True Brvnd hats. These hats say "Dallas" or have the "D" upside down as a reflection of the True Brvnd's start during the 2020 pandemic when as they put it, "The world felt upside down." 
Indiana University Hoosiers Merchandise Retail Kiosks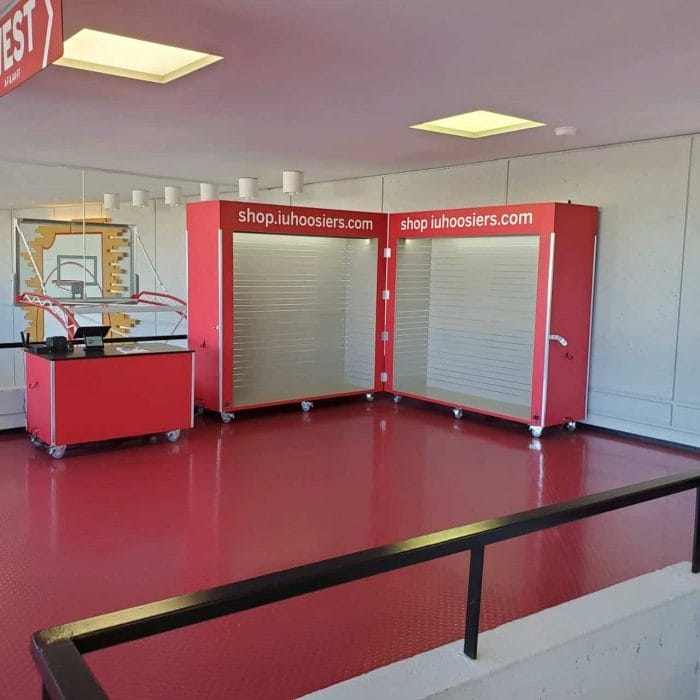 The Indiana Hoosiers Team Store carries fun novelty merchandise, Adidas apparel, and other unique Hoosiers gear. The Team Store has multiple locations, including special Game Day locations. These Hoosiers merchandise kiosks are a portable retail solution that can bring merchandise stores directly to fans anywhere on campus.
Detroit Lions Merchandise Retail Kiosks
Lions Supply, the primary merchandise and retail store at Ford Field, home of the Detroit Lions, boasts an impressive 6,000 square feet of fan gear and collectibles. Lions Supply merchandise retail kiosks are located in multiple areas of Ford Field and are available to ticketed fans on Game Day. One of our favorite items at the Ford Field retail kiosks is the Detroit Lions Starter jacket. These iconic jackets have a vintage varsity-letter jacket vibe and will make you the envy of all Lions fans!
Whether you're outdoors at a tailgate or indoors watching the game on the big screen, be sure to visit the retail kiosks next time you're at your team's stadium and check out what new and exciting gear they have!
Gallery Carts builds merchandise and retail kiosks for outdoor and indoor use as stadiums, arenas, and other entertainment venues. For more information on how to get started with a Gallery Cart, contact us using the form below.